Day 18 of the Plastic Free July Challenge
Common takeout containers, made out of plastic and styrofoam, carry a hefty carbon footprint and are often difficult to recycle, making them increasingly damaging to the environment.
A Manchester University study found that there are 2,025 million takeout food containers used in the European Union (EU) each year. However, if society finds a more effective way to recycle or re-use these containers, it could help reduce annual greenhouse gas emissions equivalent to that produced by 55,000 cars.
In the EU, alone, the takeout market is expected to be worth more than $91 billion in 2020. (Source – Tun)
I'm not saying that we should entirely quit buying food but just reduce the amount or follow these simple steps to avoid plastic:
Take your own containers with you. Some restaurants accept it, trust me. You can

read my friend's experience

here.
Write to the restaurants saying that you'd like to have a sustainable alternative to the food packaging.  It works (refer to my screenshot below – my experience with one of the restaurants when I ordered on Zomato. The key is to be polite and appreciate their efforts. If they want to retain their customers, they'll definitely take action!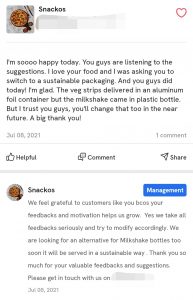 Last but not least, cook your own food at home.
As I always say, your small actions will definitely make an impact!
Follow me in social media: