It is the spooky time of the year again. With the relaxed air lingering and trees shedding yellow and orange leaves – Halloween is around the corner!   
Halloween is quickly approaching, and for some of us, it can be pretty challenging to live a zero-waste lifestyle during holidays. This celebration is all about getting creative and quirky – which means displaying decorations, making some treats and candies for children, and getting a costume to wear. With joy and laughter, a lot of waste is produced in the holiday season. 
With that being stated, there are not-so-scary ways to come up with zero-waste Halloween ideas for decorations, candy, treats, and costumes. 
DISCLOSURE: This post may contain affiliate links, meaning I get a commission if you decide to make a purchase through my links, at no additional cost to you.
A Zero Waste Halloween 
When you think of Halloween, you probably don't think of "minimal celebration," but if you prepare back and support these suggestions, you could effortlessly enjoy a minimal Halloween.
Keep your home's accessories to a bare minimum.

Consider what "treats" you provide to children. Aside from sweets, there are several excellent and helpful items you may distribute.

Equip your children with clothing that can be reused or that can be repurposed.
Let's look into the different ways in which we can celebrate Halloween sustainably. 
Eco-friendly treats for Halloween
Treats are one of the essential things in Halloween! By planning things, you can celebrate Halloween with the least waste possible.  
Candies 
If you want to purchase candies from the store, look out for the ones with paper packaging which can be easily recyclable. You can also consider some truffles and cakes that come with compostable and eco-friendly wrappers. 
You can also pack some dried fruits that are not only zero waste but is also healthy! You can get these in bulk and pack them yourself. 
Zero Waste Snacks – Healthy Options
Other sustainable treat ideas
Understand that it is not just that candies need to be "treats". You can think of having useful things like Halloween-themed pencils, bookmarks, or even cute Halloween-themed products that the kids might find super helpful. 
Some of my favorite non-food Halloween treats are the plantable balls or notebooks that can be given away as gifts and planted in the yard after use. 
Tip: You can use pillowcases or cotton bags for trick-o-treating. If it is not a good option, you can also decorate a tote bag or other container which can be reused! 
Zero Waste Decorations for Halloween 
Halloween is all about getting creative with your Halloween decorations out there. Usually, people opt for cheap decorations, mostly made from plastics that can end up in the trash. Here are some of the classy and zero waste decoration ideas that you can repurpose and reuse. 
Pumpkins! 
A visit to the pumpkin patch is definitely on everyone's to-do list as of October hits. Whether you decide to carve out the pumpkin or paint, make sure to save the seeds, which you can roast later on, or compost them altogether. If you are painting them, make sure that you use non-toxic paints. 
Approximately 5% of the real pumpkins decorated for Halloween in the United Kingdom are probably cooked. Do you understand what that means? In the United Kingdom, 18,000 tonnes of pumpkins are allowed to decay. All of the water and power used to cultivate and deliver the pumpkins has been squandered.
So, rather than tossing away your healthy pumpkin this time, use it to create soup, pie, or even offer to your hens. Make some groundnut monsters and citrus lanterns as well. If you're going trick-or-treating, only grab whatever you're sure that you'll consume!
Use milk jugs into ghost lanterns
Instead of purchasing plastic lanterns to light up your home, you can use some saved milk jugs and use LED lights inside. You can paint some faces on it, and there you go Milk Jug Ghosts for your Zero Waste Halloween Decor! You can also use old cans and boxes for decorations.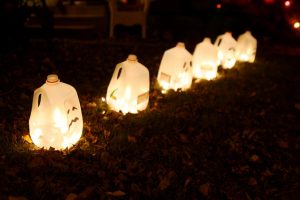 Zero Waste Halloween costumes 
To create a nearly zero waste costume, think and experiment with things reused and recycled. 
Characters that you can recreate from your closet
You don't have to DIY anything sometimes! You can find some interesting characters that have reasonably regular costumes. Just pair the clothes together, add some makeup and fake blood to look like a spooky version of the character! 
Make props from paper and cardboard
Cardboard is an excellent material to create costumes like robots, Minecraft characters, or so on! All you have to do is cut them out in desired shapes, paint them with non-toxic paints, and there you go! 
Swap or get costumes on rent 
While DIY-ing can take some time and effort, why not swap the costumes or get them on rent? You can either swap the costumes with your friends or ask them to lend you something to create an effortless look. 
Zero Waste Halloween Party
Throw a "green" party – Hosting a party?
You can avoid using plastic plates, cups, and decors & use items made from bamboo instead. To avoid waste altogether, you can also plan the snacks that don't need forks or spoons! 
Halloween is supposed to be a spooky celebration, but that doesn't indicate it has to be bad for the planet. There are numerous ways to enjoy Halloween rather than using excessive plastic and trash, whether it's making zero-waste monster structures, having a costume exchange, or giving kids practical Halloween items rather than just candy.
Follow me in social media: