If you haven't check out my Sustainable Fashion Guide, do check this first and then come back here in order to get some idea on sustainable fashion. I hope you've read the Sustainable Fashion Guide. So now let's look at the best Indian sustainable fashion brands. These brands not only remind us of our Indian heritage but also provides today's world needs.
DISCLOSURE: This post may contain affiliate links, meaning I get a commission if you decide to make a purchase through my links, at no additional cost to you.
10 Best Indian Sustainable Fashion Brands:
Ka-Sha:
Heart To Haat project of Ka-Sha makes sure to create various sustainable products like clothing, bags and accessories. This project was found as a solution to the post-production waste. The founder of Ka-Sha felt that there is so much waste is left out after the production process. Hence she came up with the idea of using them by their innovative techniques to produce beautiful and usable products.
They have a wide range of products for women from sarees, jacket, scarves to dresses.

Doodlage:
The founder of Doodlage, Kriti felt there is a huge waste in the fashion industry when the fabric is thrown away due to the minor changes in the design or colours. So, she decided to put them to the better use and that's how Doodlage was born.
They work with eco-friendly fabrics like organic cotton, corn fabric, banana fabric and leftover or quality discarded fabrics from large manufacturers. They also source tiny fabrics which are found post-cutting from the retailers. This is how they are turning waste into exclusive and unique pieces with their innovative ideas.
They are upcycling, recycling and going for zero waste in the fashion industry to provide the best pieces for both men and women. Yeah, it's great news! They offer shirts, jackets and bottoms for men and jumpsuits, outerwear, tunics, bottoms, tops for women and much more.

Upasana:
Upasana is great at using fashion as a design for change. They are uplifting the lives of farmers, weavers, dyers and also providing employment to rural women. They also make sure there is no child labour is involved in their production. Upasana uses traditional Indian Textiles like Khadi, Silk and Jamdani. Not only that they only use handwoven cotton. And for printing the clothes with their natural dye, the hand-block printing method is also used.
They also use the healing textile which is nothing but the fabrics are dyed using ayurvedic herbs like neem, Tulsi to heal and protect the skin. Ikat technique is also used in their dying process. And the fabric scraps are used to upcycle which makes them zero waste space in the fashion industry.
In Upasana, you'll find a vast range of collections for women like kurta or tunics, bottom, dresses and jackets.
Runaway Bicycle:
Runaway Bicycle is following sustainable practices by working with weavers in their handlooms to produce clothes from scratch and using natural dyes as much as possible. They use organic cotton which is certified by the Better Cotton Initiative. They are using breathable fabrics like khadi, handwoven cotton and linen.
Runaway bicycle is only for women where you can find tops, bottoms, jackets, dresses, jumpsuits, stoles and much more.

Fabindia:
Here the products are made from traditional techniques of India and hand-based processes. They connect over 55,000 craft based rural producers to urban markets which results in the sustainable rural employment. They're also preserving our Indian heritage by their traditional handicrafts.
They are supporting the artisans, farmers, makers and designers and also providing natural products to the customers with the taste of our Indian culture without affecting the environment.
These are some of the good ethical brands from India as well as from all around the world.
Nicobar: 
Nicobar makes the products which last long and they are not into fast fashion. Their products are inspired by the natural design, materials and the culture. They have some cool collections for both Men and Women. For Men, they've from shirts, t-shirts, kurtas, jackets to trousers and for women, dresses, kurtas, tops bottoms, sarees, Dupattas to travel wear. Nicobar also has bags and organisers.
They are trying their best and making their packaging 85% plastic-free and they are open to suggestions to move towards 100% of sustainability.

No Nasties:
No Nasties is one of the Indian sustainable fashion brands. They are organic, fair trade and vegan. They also have a very good collection for Men, Women and Kids. So far, they've saved 24,104,497 litres of water, 72,867,870 hours of LED bulb energy and reduced 164,911 km of driving emissions. Also, they are not into pesticides and chemical fertilizers for growing their organic cotton.
Shift by Nimish Shah:
Shift uses organic and natural fibres in their clothing. They also work with artisanal handloom textiles where they go for both organic and conventional cotton and silk. Printing of clothes done in an old-fashioned method using wax beds. Their fabrics are sourced from ethical manufactures. The company also sends their fabric scraps to NGOs where those scraps are given a new life by crafting them into beautiful textiles. Not only that they use their previous season fabric scraps in one of their products.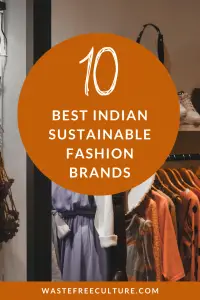 Eka by Rina Singh:
Eka uses only 100% natural fibres and works directly with sustaining small scale craft groups. They produce less industrial waste and source their raw materials from the ethical chain. Eka concentrates on quality and they have a huge collection of clothes for different occasions. They not only provide unique clothes but also other vibrant jewellery and accessories like bags, clutch, belt, footwear etc.
Anita Dongre Grassroot:
In Anita Dongre Grassroot you'll able to get colourful and ethnic pieces. They've clothing for both men and women, handcrafted jewellery, bridal shoes and even wedding collections. Fur or leather are not used in their products and they are empowering rural artisans mainly women by training them with the skills and providing livelihood opportunities. Also, they are following eco-friendly practices in their workplace where they use water and sunlight in an effective way.
Cons:
The downside of sustainable clothing is the over price. Since these brands produce their products from scratch or some even are hand- made and the sustainable raw materials also quite expensive and thus the sustainable clothes are overpriced than synthetic clothing. But no worries I'll do a post on affordable sustainable clothing very soon.
Where do you buy your clothes to build your Indian sustainable fashion wardrobe? Let me know in the comments!
Follow me in social media: