Are you a person who leads a zero waste lifestyle in India? I know the obstacles and struggles while leading a sustainable life due to various reasons. But the very first reason among them will be finding a package-free zero waste store in India because most of our waste comes from the package of the grocery items. So here I've managed to make a list of zero waste stores in India. Check out the list to see whether your city has a zero waste store or not. But if you have a zero waste store in your locality which I haven't mentioned here, feel free to share them with address in the comment section below so that our readers will get a chance to visit them!
DISCLOSURE: This post may contain affiliate links, meaning I get a commission if you decide to make a purchase through my links, at no additional cost to you.
8 Zero waste stores in India:
Ecoindian is the first organic zero-waste grocery store in South India. This sustainable retail outlet is located in Chennai, India. It's all started when the 2 friends, Prem Antony & Pradeep Kumar decided to go zero waste. They travelled to meet the organic farmers around Tamil Nadu & Karnataka in the search of organic items. But what they found was appalling. The farmers are ready to provide the organic food but the consumers are not open to this concept and thus they started this retail in 2018.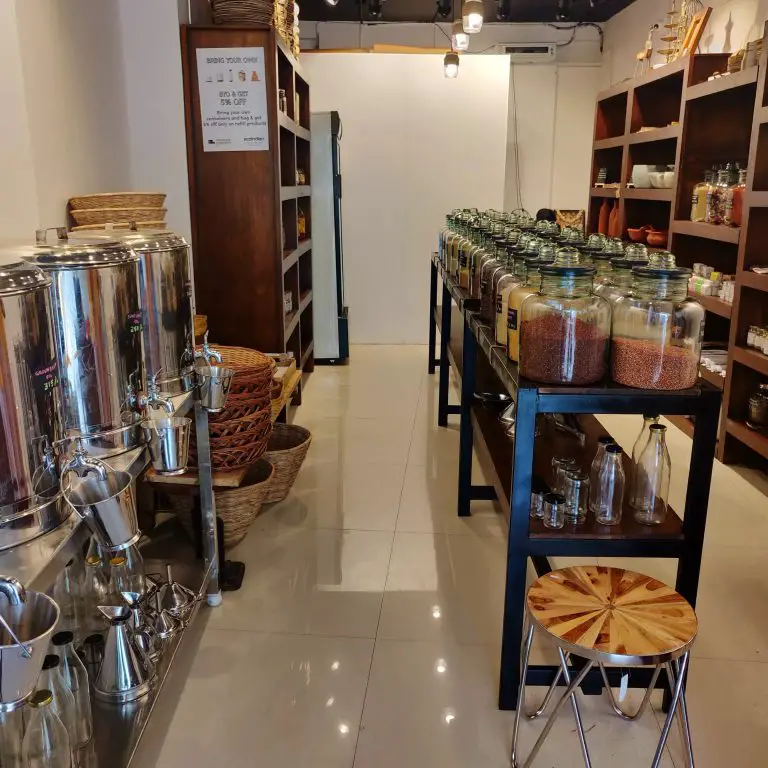 Image Credit: LLB
The products of Ecoindian are sourced from the Organic farmers, local artisans, self-help group & non-mass producing brands. They provide their organic and sustainable goods package free and thus preventing the single-use plastics from the landfills. Ecoindian also has the policy to encourage consumers to bring their own container which is BYOC policy—Bring Your Own Container—and avail a 5% discount at the store!"
They also have an online store to deliver their zero waste products at your doorstep. Ecoindian claims to provide 100% organic grocery, gourmet, home care & sustainable products in all over India.
Impressed by the zero waste store at London, Bittu John started 7 to 9 Green Store in Kolencherry, Ernakulam. Not only this, 50 such stores about to come up in different parts of the state under his guidance. Awesome! Isn't it?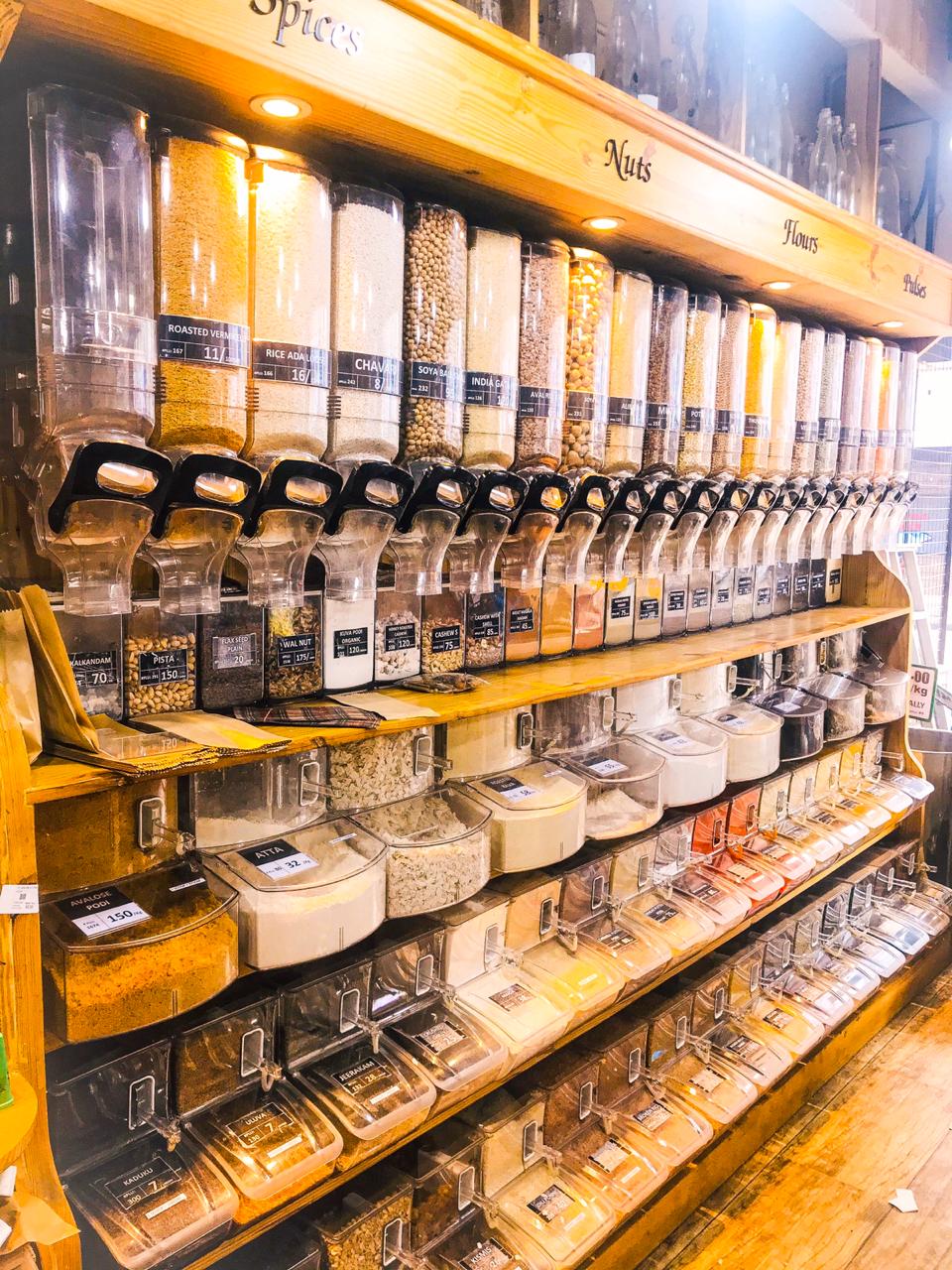 Image Credit: 7 to 9 Green Store
They sell from cooking essentials, cleaning solutions or other commodities and customers have to bring their own bag. The customers will also get a 2% discount when they bring their own containers. But the store provides paper bags and glass bottles to the customers who failed to bring their own containers. The customers can also return the glass bottles in their next visit and get the refund money for those bottles. John also added that "Ninety percent of the plastics in houses come from grocery shops or supermarkets and I wanted a change in the system. In seven months, I helped the customers dispense with nearly three lakh single-use plastic covers." (Source)
Check this out: How landfills affect our environment?
The store is a huge success since it receives around 250 customers daily even from far-off places like Ernakulam and Thodupuzha.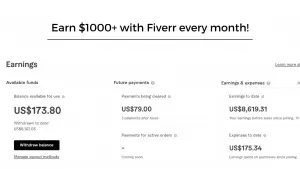 Muditha zero waste is the first zero waste store in Hyderabad started by a couple who was once a customer of the Ecoindian in Chennai which we've seen earlier. When they moved to Hyderabad, they couldn't find such sustainable stores. And thus, decided to start their own zero waste store in Hyderabad, India.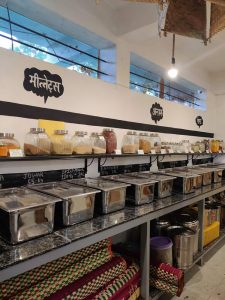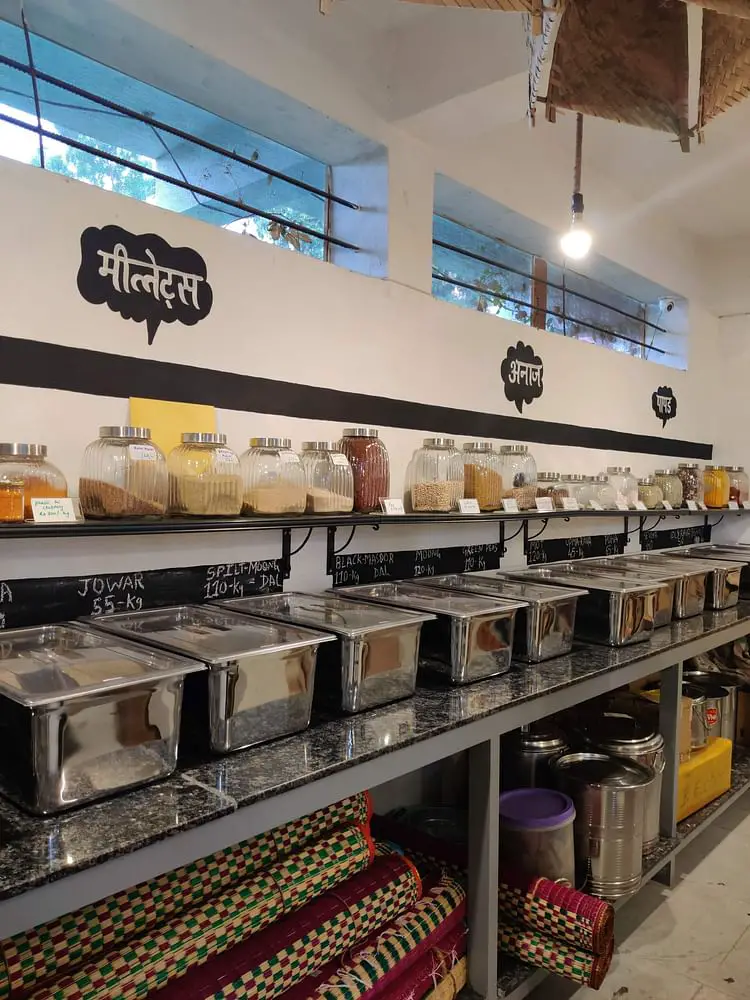 Image Credit: LLB
Here, you can expect a wide range of zero waste goods from beauty and hygiene products, food grains, oils, bakery snacks to baby care. You can also make your order gets delivered to your home on electric bikes which is great to reduce your own carbon footprint enormously by ordering from them. Even we may not have the electric bike at home to do this. So, shop online from Muditha zero waste. They also allow you to return the packs of your prior order when you're ordering for the next time. By doing this you can get points which can be redeemed any time.
Sahar Mansoor, the founder of Bare Necessities, herself leading a zero waste lifestyle for more than 2 years, overwhelmed by India's trash problem. That leads her to take some action and thus Bare Necessities was born in Bengaluru, India.
They source their products ethically from local farmers and vendors and they also emphasize on employing women in their organization.
Image Credit: Bare Necessities – Zero Waste India
Bare Necessities use only post-consumer packing materials to ship their products like reusable glass jars, cloth scraps from the local tailor and paper scraps from their printer.
Check this out: Zero waste hair care routine – Minimalism
Their labels are printed on recycled paper and use paper tape as far as possible. They are striving continuously for the better approach towards zero waste.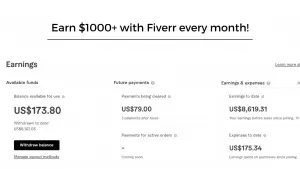 The passion for a greener environment pushed the 3 powerful women professionals to start Green Mantra for delivering a healthy lifestyle to individuals and corporate. It's a movement to go package-free, preservative-free and pure!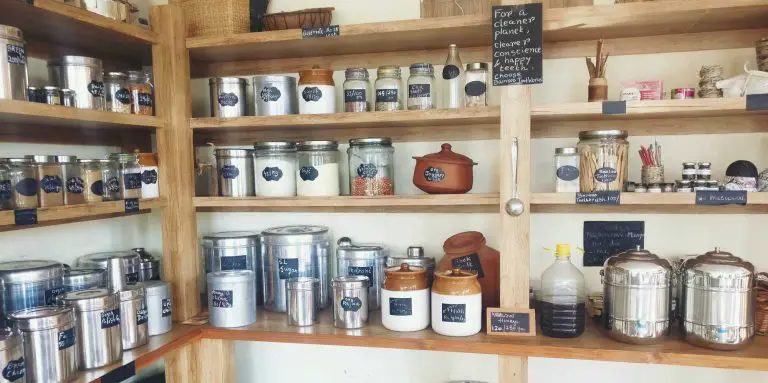 Image Credit: Green Mantra
Green Mantra is located in Bengaluru.  It provides a huge range of products like Replacement Products, Grocery, Dairy & Bakery Products, Sustainable Menstruation Products and Composting. You can buy from them online here.
The childhood friends Jonah and Elridge are the founders of Ecoposro ('posro' meaning a 'small local shop' in Konkani). Ecoposro is started in April 2018 and which is the first zero waste store in Goa. By seeing the piles of the waste in their state they decided to do something about it.
Jonah says, "When we decided to go zero-waste, we realised how difficult it was to discard plastic packaging and procure quality goods. Suppose if we need ten items without plastic, we have to visit five different stores – which motivated us more to launch our own zero-waste initiative."
You may also like Homemade Moisturizers for dry skin in winter
He also adds, "When our customers happily exclaim that now they need to take out the trash only once in three weeks, we feel proud about doing our bit for the planet," gleams Jonah. "Personally, Eldridge and I have seen our waste reduce by 75% in just a few months,'' (Source)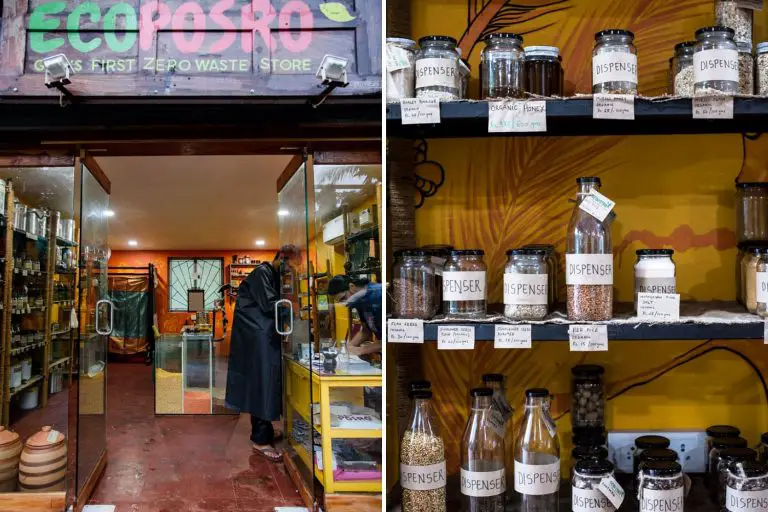 Image Credit: LBB
From everyday household essentials like grains, spices, cooking oils, and even local produce like coconut vinegar, rock salt and jaggery to milk and other dairy products, local eggs and bread, Ecoposro will take care of all your basic grocery needs. They also have a section of zero waste detergents, cleaners and toiletries like handmade soaps, toothbrushes, toothpaste, toilet paper, cloth sanitary pads etc. Naturally made organic cosmetic items have also found a place in Ecoposro. "Other than household items, we keep steel tiffins, copper water bottles and a few stationery items made from recycled paper and tetra pack," Jonah enlists, detailing how a zero-waste store can actually substitute conventional departmental stores.
The vegetables sold at Ecoposro deserve a special mention as they are completely organically farmed by local organic farming enthusiasts – with zero chemical fertilisers and pesticides. (Source)
Read our 8 ways to remove the pesticides from fruits and vegetables
They follow the zero waste policy strictly right from the manufacturing the products to the delivery to the customers. Customers can bring their own reusable bags or Ecoposro provide them with recyclable glass jars or paper packs.
Adrish is India's 1st Zero-waste Organic Groceries Store Chain. It is not only located in Pune but also in Delhi! They bring an abundant variety of organic groceries like grains, dals, cereals, pulses, spices, millets, cold-pressed oils, juices, squashes, herbal soaps, earthenware, bamboo brushes, wooden utensils and toys, copper bottles, yoga mats etc. Yes, you literally get everything here to start off with the zero waste lifestyle.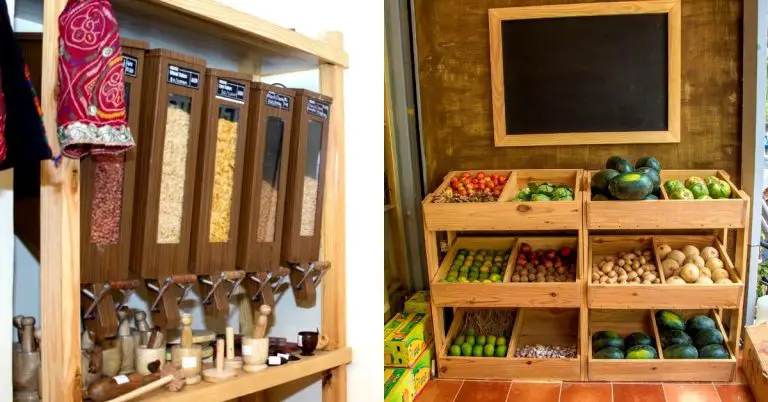 Image Credit: Akshay Agarwal
At Adrish, they weigh the consumer's containers to provide the exact weight of the products they buy. They are buying organic products from the farmers in Kashmir, Andhra Pradesh, Rajasthan and 11 other states and thus impacting 8,000 farmers.
The first zero waste store in Kolkata! Kolkata Zero Waste Bazaar was started by Lata Bhatia, who is a Green warrior. She also an active member of Kolkata Clean Air Movement. She has been living this zero waste lifestyle for the past decades.
Read our DIY Lip Balm: Complete natural
Lata sells only the upcycled and recycled products to reduce the carbon footprint! In an interview, she says that this zero waste store is not started to make any profit. And she also adds that she wants to have such sustainable green stores in every neighbourhood.
Image Credit: Kolkata Zero waste Bazaar
The customers should bring their own containers to buy food grains and other zero waste goods. Here's the interesting fact about this Kolkata zero waste bazaar – they provide biodegradable bags to their customers which are mostly upcycled clothes from the textile waste. She also sells the personal hygiene products like reusable diapers and napkins which are 100 percent clinically safe for women and children.
The most of the products in the Kolkata Zero Waste Bazaar are manufactured by local communities thus providing opportunities to the people around them.
You may also interested in Natural mosquito repellents that actually works!
So these are some awesome zero waste stores in India. How many of you recognised them already?
If you know any zero waste stores located in India, share them with us!
Follow me in social media: