In the zero waste recipe series, we're looking ways to make our favourite food, snacks, sauce and seasonings at home which usually comes in plastic packagings like chocolate chip cookie, mayonnaise, tomato ketchup etc. You can find all the other zero waste recipes here.
When it comes to a home party, tacos and tortilla chips comes to our mind. Even though the tortilla chips are first mass-produced at the US they are from the Mexican cuisine. Few people have access to package free tortilla chips in their neighbourhood. If you are one of them, great! If you're not and still in the hunt for the package free tortillas, I appreciate your patience, keep looking for them. But why don't you give them a shot at your kitchen? And so today we are going to see how to make tortilla chips, not just in one method but in 2 different methods. Here I'll share the tortilla chips recipe without making any waste.
The ingredients are the same for all the methods, only the instructions differ.
DISCLOSURE: This post may contain affiliate links, meaning I get a commission if you decide to make a purchase through my links, at no additional cost to you.
How do you make tortilla chips from scratch?
Tortilla chips recipe: Fried 
Ingredients:
All-purpose flour – 1 and 1/2 cups
Wheat flour – 1/2 cup (optional) (you can replace it with all-purpose flour)
Coarse salt (sea salt or kosher salt) – 1/2 teaspoon
Baking powder – 1/2 teaspoon
Warm water – As required
Oil – 2 tablespoons for the dough and 1/2 cup for the frying
Instructions:
Mix the all-purpose, wheat flour, baking powder and salt.
Now add 2 tablespoons of oil and the water little by little to make a soft dough.
If the dough turns to over sticky, add a little more flour and if it's dry, add the water to get to the right consistency.
Keep it aside for 15 to 20 minutes.
Make small balls from the dough and with the tortilla press or rolling pin, roll the dough balls into a flat circular shape.
Cut them into triangle shapes with the knife or pizza cutter.
Take the oil in the pan and heat it in the medium flame. Once it's heated, add the triangle-shaped dough to the oil.
Fry them well till they are turning crispy. Transfer them to a clean cotton towel to remove the excessive oil.
I'd like to have the tortilla chips with homemade hummus. You can also have them with the homemade salsa, keep reading for the salsa recipe.
Tortilla chips from homemade tortilla:
In this method, you'll make tortilla chips by baking the tortilla. In order to make the chips, we've to prepare the tortillas first.
How to make homemade tortillas?
Follow the first 5 steps in the above recipe.
Once you turned your dough balls into the flat circular shape heat them with the little oil in the pan.
When you see the bubbles and the slight brown spots, flip it to cook the tortilla on the other side.
Your tortillas are now ready.
Tortilla chips recipe: Baked
Cut the tortillas into triangle shapes and bake them for 10 minutes. And flip the tortilla chips and bake for another 3 to 5 minutes in the preheated oven (350 degrees Fahrenheit).
You can sprinkle the salt or black pepper even before or after the baking. It's your choice.
To make the tortilla chips: fried
Instead of baking, you can also fry the tortilla triangle pieces to make our fried tortilla chips.
Tortilla chips with salsa:
Serve your tortilla chips with the homemade salsa! Here are the ingredients.
Ingredients to make a perfect salsa at home:
Tomatoes – 1 cup
Onions – 1/3 cup
Garlic cloves – 2 to 3
Jalapeno – 1
Cilantro – 1/3 cup
Lime juice – 1 teaspoon
Coarse salt – as required
Instructions:
Chop all the above ingredients finely.
Now add lime juice and salt to them and mix well.
Cover it with a cotton cloth from 30 to 45 minutes and serve it with our homemade tortilla chips.
Frequently Asked Questions (FAQ):
Why are my tortilla chips chewy?
Sometimes, the tortilla chips turn chewy when they are not fried at the right temperature. In order to avoid it, just fry one piece at first to check whether your oil is heated enough to make your tortilla chips crispy.
What can I sprinkle or add to my tortilla chips? Or how do I flavour my tortilla chips?
Sprinkle some salt, pepper or garlic powder or cumin powder or chilli powder or any other spices of your choice.
You can sprinkle them even before or after the baking or at both the times.
What sauce or dip goes with tortilla chips?
Guacamole
Salsa
Cream cheese dip
Hummus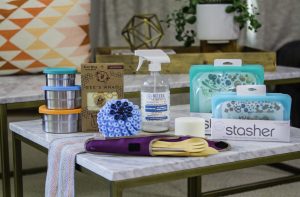 Storage:
Can I save the tortillas to make the tortilla chips later? 
Yes, you can. You can store the tortillas in the airtight container or zip lock bags for a week in a refrigerator. When you have the urge to make the tortilla chips, just heat the tortillas in the oven or pan and cut them into triangles to make the tortilla chips.
What to do with the leftover tortilla chips? And can you warm up tortilla chips in the microwave? Or how do you freshen up tortilla chips?
When you're left with some tortilla chips, store them in the airtight container. But when it loses its crispness, you can warm up the tortilla chips for a few seconds in the microwave to retain the crispness.
You may also read:
Chocolate chip cookies recipe – Vegan | No Oven
Authentic & Healthy Homemade Hummus recipe
5 Eco-Friendly Food Storage Containers & Cookware
Tomato Ketchup Recipe – Fresh & Homemade
Homemade Mayonnaise Recipe – With & Without egg
Zero waste Christmas – A sustainability guide
Homemade Moisturizers for dry skin in winter
Homemade deodorant – Complete natural
Zero waste valentine's day ideas
10 easy Zero waste swaps you can make today
Zero waste living | Beginner's Guide
DIY Air Fresheners – Zero Waste & Homemade
E-waste: Reuse, Repair, Recycle – towards zero waste
DIY Lip Balm: Natural & Zero Waste
Orange peel powder – DIY, Skin & Hair Benefits
Remove stains from any coloured clothes naturally!
How to make the Homemade Milk cream & Butter
Get rid of dark circles – Natural & Zero waste way!
11 tips to conserve water at your home
10 best sustainability apps for a sustainable life
What do you do with old plastic? | Zero waste living
Zero waste hair care routine – Minimalism